Things to consider when buying a Shift3 Lookbook e-reader.
As more people are interested in reading their book using an ebook reader, the market is filled with the latest gadget to satisfy different user needs. One of the well known ebook readers is the Shift3 Lookbook. Powered by Kobo Books, it promises user friendly controls, excellent searches and can be used with many ebook formats such as ePub, PDF, TXT and many others.
Apart from that, as it is under Kobo Books, users can get a myriad of books with its built in global bookstore. So far Kobo Books are known to have millions of titles to choose from and can actually be cheaper than from other ebook sources.
Looking into the Design
Looking closely into the design, the Shift3 Lookbook does have a decent 7" vivid full color LCD display screen.  However, if comparing it to the Kindle, some users commented that the reading experience was not satisfactory. The margins were too wide, the font choices were limited and the formatting could be a little bit messy. And some users noted that uploading an ebook took quite some time. However, this is the opinion of a few and its not known what circumstances they were under.
Nonetheless, the color LCD display is adjustable. The ability to change the brightness and choosing an optional night mode is something an ardent reader would love. Moreover, the navigation's are pretty simple as the buttons are located on both sides of the reader.
The dimension itself is compact with a diameter of 9 x 5 x 0.5 inches. It can easily be slipped inside a sling bag and durable enough to be transferred around.  The whole package itself includes AC adapter, USB cable, stylish case and 150 free digital books.
Internally, it has a built in rechargeable battery that could last up to 6 hours of continuous reading. However, there were users that commented the battery only lasted 4 days even if it was put on sleep mode. Apart from that, Shift3 Lookbook users commented on some bugs regarding the SD Card.
Some users personal ebooks were not able to be uploaded into the device. Not sure whether this was an actual bug or Kobo does not encourage other ebooks apart from its own. Hopefully the developer will take this into consideration and create a new generation with lesser problems.
Having these types of glitches would demean the fact that this ebook reader has an excellent 512MB storage which could be expanded up to 8GB with another memory card.
Is This Device For You?
So, should a dedicated ebook reader choose Shift3 Lookbook? Apart from its obvious disadvantage this e-reader does have a few points that make it a good choice. One of the biggest selling factors is that it is far cheaper than the other ebook reader in its class.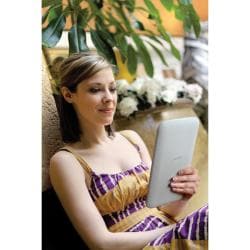 Suited up with WiFi, users can easily browse millions of ebooks online. Some might argue that getting a Kindle would be much better but actually the Kindle model with colored display is more expensive than Lookbook.
At the same time, this ebook reader can be used in any other format apart from the commonly known PDF. Readers can upload their favorite stories into TXT format and still be able to enjoy it.
But the developer will need to look into the external storage problem. It would be pointless if the device can read several formats but users were unable to transfer their own collection to be read.
Though, it is noted that most of the ebooks can be read with the SD memory card inserted. The only problem was that it could not be transferred into the internal drive.
Now, the Shift3 Lookbook didn't create much of a buzz when it came out. Although it is a pretty decent ebook reader and it is worth buying. The quality is pretty good with just a few minor glitches. In fact most of them are pretty minor.
Nowadays, a quick look through several online stores like Ebay and Grocery Stores, you can find this nifty ebook reader priced with less than $100.00. Some users manage to buy it for even less than $50.00. Therefore, if the user is just looking into a reader that can read both monotone and colored books, suited with WiFi, powered by one of the biggest online bookstore then this is definitely a good choice.
Get the Shift 3 Lookbook at a Great Price Through Amazon.com. They also offer a range of accessories that work well with your new ereader.